Captain Data Review - Automate Data and Lead Generation with Ease
Captain Data is an easy-to-use, cloud-based software platform that automates lead generation workflows at scale.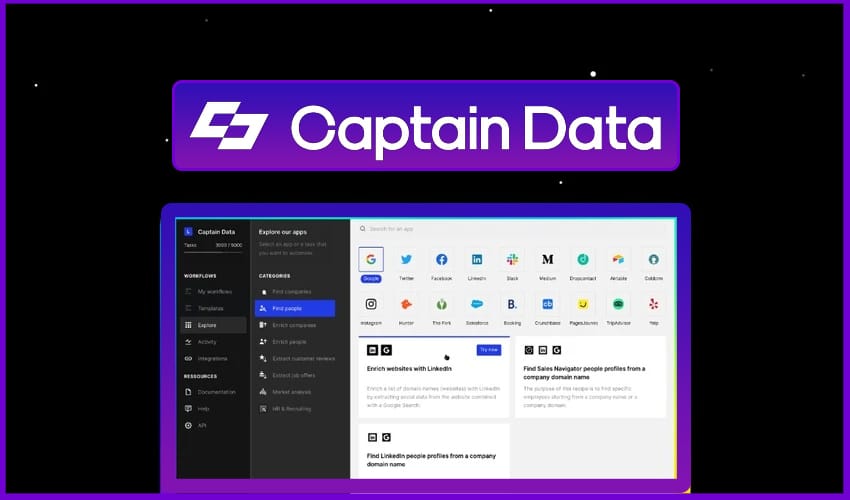 Captain Data Review - Automate Data and Lead Generation with Ease
Data is everywhere, but it's hard to get your hands on the information you need.
Capturing and extracting data from web pages can be time-consuming and tedious. It also requires a lot of technical knowledge that most people don't have.
Captain Data makes this process easy by automating everyday tasks with no coding required!
Captain Data is an easy-to-use, cloud-based software platform that automates lead generation workflows at scale.
Captain Data has a simple drag and drop interface that lets you create workflows to capture data from prospects on websites or social media channels.
Captain Data automatically confirms leads, matches them to your CRM, captures customer feedback, and sends out personalized emails to get more engagements with leads.
It's the simplest way for businesses of any size to grow leads while saving time!
Features
100+ Workflow Templates
You're a busy person who knows that automation is the way to go, but you don't know how to code or hire developers.
Captain Data solves this problem by providing an easy-to-use interface for non-technical users to create automated workflows.
Captain Data will save you hours of frustration and thousands of dollars on custom development projects. With their drag-and-drop interface, anyone can build complex applications with ease! Plus, now there are 100+ pre-built templates, so you don't have to waste time making something from scratch when someone else has already done it for you (even better)!
Seamless Integrations
There are a lot of different tools you can use to collect, analyze and report data from your website. But it's hard to get them all up and to run together efficiently.
Captain Data makes it easy for you to integrate with the tools you already use, like spreadsheets, CRMs, social networks. It also got native connectors that make everything simple!
Captain Data helps marketers save time by allowing them to automate their reporting processes across multiple platforms. It also gives business owners insights into their visitors' behavior on their websites without hiring a developer or analyst.
Multiple Application platforms currently Available
| | |
| --- | --- |
| Linkedin | Google |
| Instagram | Facebook |
| Crunchbase | Société.com |
| Pages Jaunes | Twitter |
| Sales Navigator | Slack |
| Leboncoin | Trustpilot |
| TripAdvisor | Google Sheets |
| Salesforce | Dropcontact |
| ColdCRM | HubSpot |
| Bodacc | SerpWow |
| Lemlist | Hunter.io |
| Neverbounce | Yellow Pages |
| Visum | La Growth Machine |
| Indeed | SocieteInfo |
| Google Maps | |
Sync Accounts with Team
With Captain Data, your team can scale as you grow. Plus, there is no need for people outside of the company or organization that use these tools since they have access through one account centrally managed by Captain Data!
You can even set up automation in minutes with just a few clicks on their website, so everyone on-board will be doing what needs doing quickly without having any technical expertise whatsoever required - talk about convenience, right?
Dynamic Account Limits
Automation is complex when you're trying to stick with an application's limits by yourself. But Captain Data has your back!
There are set limitations that the platform automatically calculates for you to be more accessible than ever before with each integration.
You can get access right away and see everything in detail, including descriptions of any errors or concerns explicitly related just to this input type along with dedicated proxies if necessary (they're fantastic).
World Class API
The Captain Data API is the tool you need to get your data in and out.
Whether updating an account with accounts information, checking usage over time for a specific app, or launching workflows that poll input results - it got you covered!
It's easy as pie: create one of these using their world-class API, which includes all types, so integration can happen seamlessly across platforms giving developers complete control while integrating at reduced costs compared to other tools on offer right now (using webhooks!).
Google Chrome Extension
Captain Data Also provides chrome extension for workflows.
Use Cases
Automate lead generation
Enrich companies & leads
Account-Based Marketing
Outreach automation
Social media tactics
Extract customer reviews
Extract products & ads
Candidate sourcing for HR
Pricing plans
They have four pricing plans.
Lunar($99),
Apollo($199),
Mars($399) and
Enterprise.
API & Webhooks and Compatibility with Zapier and other applications are available with all four plans.
Account authentications and CRM support are available only with the Mars plan.
If you're looking for a CRM solution that offers account authentications and CRM support, then the Mars plan is your best option. However, if you want more features like API & Webhooks or compatibility with Zapier and other applications, then any of their four plans will work just fine. It's up to you what suits your needs the most!
Lifetime Deal through Appsumo
Currently, they are offering a lifetime deal for a one-time price starting at 99$. They have five price tiers from 99$ to 699$
The account sharing option is available from the tier 3 plan, which starts from 299$.
As you can see from the above, Appsumo is currently offering a Lifetime Deal for only 99$. This deal includes five tiers of plans which range from 299$ to 699$. The best part about this offer is that there's an account-sharing option starting at tier 3.
Spend just 399$ and get lifetime access to all their features! As with any online purchase, it's essential to do your research before committing.
If you're interested in learning more about what these accounts include, click here or contact us so we can answer any questions and help you make an informed decision.
Conclusion
Captain Data is a customer success platform that integrates your business's existing tools to automate the data collection process.
The drag-and-drop interface makes it easy for non-technical users to create complex workflows, and seamless integrations make it possible for marketers of any size or budget to use Captain Data without paying high startup costs.
With native API connectors designed into this software, you can get leads extracted automatically.
Back