Introwise Review - Schedule, Book, and Host client Calls
Introwise helps you manage all the details of your work with clients in a simple online platform that lets you create bookings, set up payment plans, and keep track of what's been done for each client.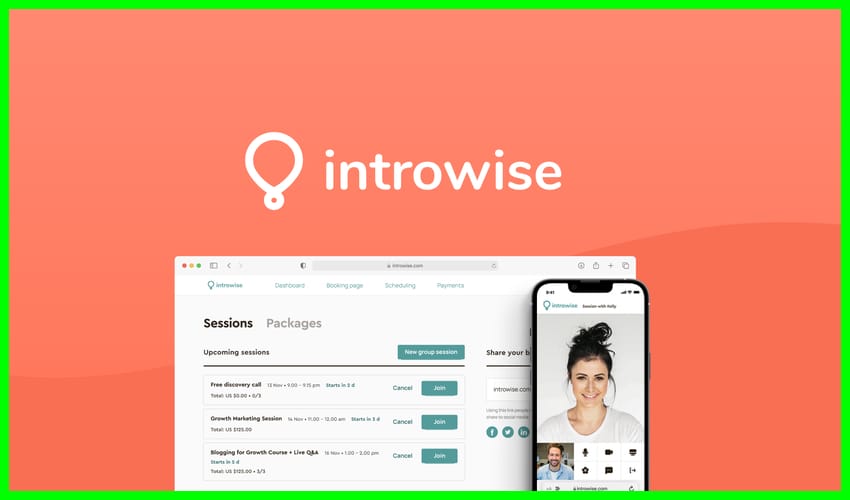 Introwise Review - Schedule, Book, and Host client Calls
Getting clients is hard, but so is managing your time and keeping track of what you've done for them.
Introwise helps you manage all the details of your work with clients in a simple online platform that lets you create bookings, set up payment plans, and keep track of what's been done for each client.
You can use Introwise to get paid right away by accepting payments through Stripe or PayPal. Introwise also provide an easy way to schedule calls directly from their website. With Introwise it's easier than ever to attract new clients and grow your business!
Pricing
Introwise have three pricing plans: the Free plan, the Growth plan, and the Pro plan.
The Free plan is a pay-as-you-go model with a 9.8% commission.
The Growth plan costs $15 per month, or $12 per month if you pay yearly, and has a 4.9% commission.
The Pro plan costs $39 per month, or $31 per month if you pay yearly, and has a 0% commission.
All of Introwise plans include both paid and free services, as well as Scheduling of 1:1 sessions, Group sessions, Unlimited clients and services, Google Calendar integration, Packages, Custom URL, Payment processing by Stripe, Built-in HD video calls, and Zoom integration.
The Free plan offers a fixed branding experience for your business, whereas the paid plans offer custom branding, as well as Discount codes.
In addition to that, their Pro plan has a premium support level (same-day responses from them during business hours), which is included with a free 30 minute onboarding call.
Lifetime Deal
Currently the tool is available in appsumo.com for $59 only.
It is the lowest price they have ever offered, so it's definitely worth checking out!
But be quick, the lifetime deal won't last forever!
Right now you can get a great software at a really nice price.
But I recommend to not wait too much with this one, as the lifetime deal won't last forever.
Features and Benefits
Introwise makes it easy for you to create informative, stylish, and interactive booking pages to sell services efficiently.
With one-click bookings and automatic calendar invites, clients can easily reserve appointments and you can increase your conversion rates.
No need to hire a web designer or spend sleepless nights trying to make your page pop the tool's beautiful micro-funnels are super easy to customize!
You can list all of your services on the page, and with profile images, bios, and service rates, your clients will have all the information they need.
Best of all, there's no download required—you can use it to take high-quality video calls from any device.
Introwise's booking page makes it easy for clients to book appointments without any confusion about time zones.
You can list your package offerings and schedule them individually, with automatic tracking of remaining sessions so clients always know when to book more.
Introwise will even send out reminder emails about upcoming digital appointments, as well as inform clients of any cancellations or rescheduling requests.
And for no-shows or late cancelations, you're still in control through automatic payments.
That means clients can cancel appointments just by writing in.
Introwise supports many different types of services, including free or paid options, one-on-one or group calls, and singular classes versus packages.
Group sessions are even more convenient for users, who can view the number of open spots and how much each session costs, as well as check out your ratings before signing up.
You can keep track of your earnings while streamlining your payment processes for yourself, accountants, and clients anywhere in the world no matter how many you have in your group.
Introwise even lets you get paid by customers anywhere in the world, accepting credit card payments and receiving payouts directly to your bank account.
Introwise is Best For
Consultants who want to be able to book a session, create a booking page, accept payments from all over the world, and manage their entire business from one platform.
Solopreneurs who want to connect their clients directly with them, sell services on an online booking platform, manage client bookings and payments without the burden of managing a website.
Coaches, speakers, and trainers who want to increase their engagement with clients and make more money by selling packages.
Group sessions or workshops need an efficient way to manage bookings across many people. Introwise makes it easy to manage sign-ups, payments, attendance issues, and missed sessions.
Additionally, the tool is great for online courses, webinars, and tele classes.
Introwise Alternatives
This tool is completely different from existing booking tools due to its advanced features for both coaches, consultants and business owners.
Calendly,
Onehub,
Schedulicity,
Doodle,
Zoho Bookings
User Reviews
Great App and Support

I purchased this to book clients, and I finally found the right app for me. This is easy to set up, support is outstanding and app work very well. Roadmap show that the developer is committed to giving the app more power and features. I'm on board long term. Would suggest more booking page design feature, but that is small issues that don't impact use.

- vincent93, Appsumo User
A gem of a product

The micro landing page and the ability to select different consulting packages from within the landing page is a game changer for social media. If you use a service like linktree or linkinbio you can have a "book a consultation" button alongside all your other links and content but at the same time separate the consultation part of the funnel from them, essentially having a micro landing page within a landing page, I love this!

The account setup is also really simple, straightforward and quick, I was able to get set up in under 5 mins. I found the UI very clean but I've not had a chance to test out the custom domain feature. As far as the account limits go I find them very adequate, I got two codes which essentially gives you 5 hours a day 5 days a week for 48 weeks which is more than enough for me as it's close to the standard work year in the UK.

Overall great product and I'm excited about the features on the roadmap.

- roydengomes, Appsumo User
Great support right off the bat

Just grabbed a couple of codes because I have a current usecase to run some group and individual training online in Australia.

With more restrictions and people here becoming more introverted while Omnicron spikes it only makes sense to push some more home-based live training.

I already have plenty of webinar type solutions and chat options, but the simple landing page and booking system appealed to me to try Introwise out.

Haven't tested the streaming quality yet but if the support is anything to go on then this will be a hit product.

I needed to get an existing stripe account connected and live support was excellent in making that a seamless process. Denis on support is a legend.

Will be testing this out thoroughly over the coming weeks and from first impressions things look good.

If the minutes used are a concern, then they list an overage charge which is very modest if you are charging for your service.

Seems a pretty good deal to me.

- Oziboomer, Appsumo User
Conclusion
Introwise is a complete online booking platform perfect for businesses, coaches, consultants and trainers.
Thanks to its advanced features it gives you an efficient way of managing your appointments, classes or group sessions efficiently.
This tool integrates with many different services like PayPal, Stripe.
As a small business owner, you have to spend a lot of time in your phone or laptop managing clients and recording payments.
However, with Introwise, you can save a lot of time by just focusing on what makes your business special while the tool takes care of everything else.
Back