Peppertype.ai Complete Review - 2021
You can generate better content in seconds with the power of artificial intelligence! This Peppertype.ai can help by generating content that your audience will find engaging and would benefit them. You don't have to spend hours trying to come up with...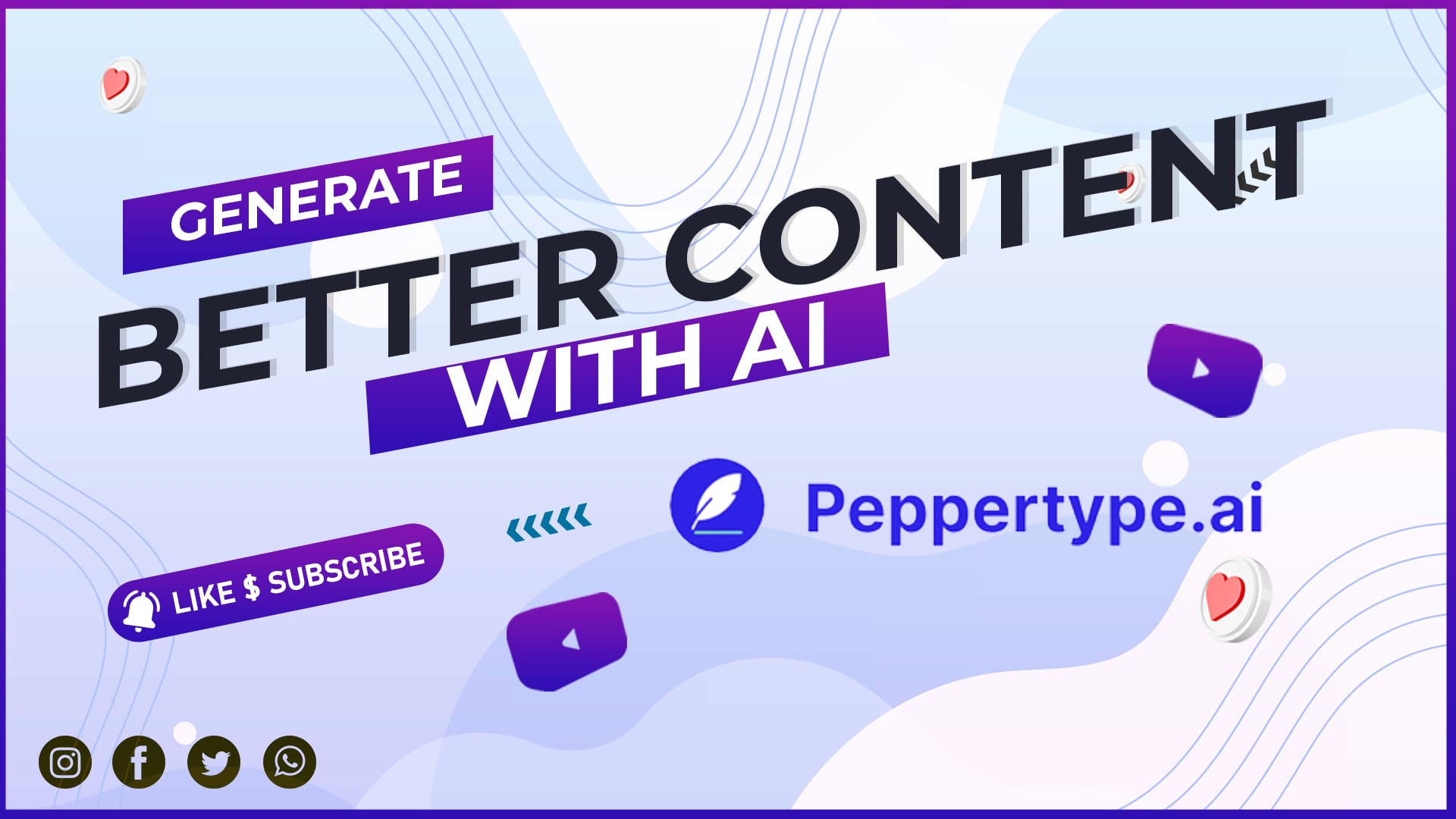 Peppertype.ai Complete Review - 2021
You can generate better content in seconds with the power of artificial intelligence! This Peppertype.ai can help by generating content that your audience will find engaging and would benefit them. You don't have to spend hours trying to come up with ideas anymore-just let the AI do it for you!
What is Peppertype.ai content generation software
Peppertype.ai is the world's best artificial intelligence-driven content generation tool that allows users to create inspiring and engaging content in seconds. It gives you all sorts of ideas on what you can write about, helping you make more money only by focusing on your audience and writing for them.
It is called Peppertype because users can easily choose the type of content they want to write through a range of topics, from 'sales', 'blogging' and 'e-commerce,' to more specific ones like 'lead magnets', 'infographics' and 'social media posts.' Peppertype.ai has already helped thousands of businesses generate a huge amount of fresh new content for their blogs and websites. Website owners can create as much content as they want without having to manually write or Google for ideas anymore!
Why is it better?
The artificial intelligence in Peppertype.ai creates engaging, high-quality and unique content using a big database of dynamic topics that are updated automatically by the system. It uses advanced algorithms to generate ideas that you might not have thought about in the first place. That way, you won't have to worry about coming up with topics on your own and spending hours writing and editing a post. You can focus all your time on increasing readership from engaging posts.
How does Peppertype.ai work?
Just sign up and in the Peppertype.ai dashboard, choose any of the templates shown.
After that, you can select a type of content to generate ideas for. Every time you create a new document, just click on the 'Content' button and choose the topic you want to write about from number of options available!
For example, i am clicking Blog Ideas, its asking me product/brand name and a small description, after entering both information, it will start generating content with the help of Open.ai's GPT-3.
How can Peppertype.ai help you with your blog posts
Open Ai's GPT-3 is an open source artificial intelligence model that generates longform article text a human would find engaging.
Now, Peppertype.ai uses this same technology to you so you don't have to spend time writing content yourself anymore! The best part is that it can help generate number of high quality ideas for you to choose from. You can use any of the ideas that it gives you, or you can keep tweaking them until they're just right.
This allows Peppertype.ai to give you better results same like a human writer could ever do. It doesn't repeat phrases and it writes with an engaging, conversational tone so readers will think your content was written by a person.
With Peppertype.ai, you can generate thousands of ideas every single month without breaking a sweat. You can get back to the most important things in your business: creating and nurturing relationships with your readers so they'll read from you again and again!
Why should you use Peppertype.AI for your blog posts
Peppertype.ai is easy to use and it allows you to create engaging content in seconds for your blog posts or website pages! Plus, the software comes with lifetime deal from AppSumo so you can update as needed whenever a new version is released. You also get upto 7500 word both shortform and longform content every month from the huge topics that Peppertype.ai includes.
Benefits of using Peppertype.ai to generate content:
Here are some of the benefits you might enjoy when using Peppertype.ai to generate content:
Users get a lot of value from that unique, engaging content
Your readers would appreciate quality without all the hard work on your part
You can save time by getting back to more important things like creating and nurturing relationships with them.
The benefits of getting this new app today
Starting from just $39 in appsumo, peppertype.ai brings you lifetime deal for all the features and updates! Click to purchase, and you'll be on your way to a lifetime of peppertype.ai! This is the deal that just won't stop giving- so take advantage while it's up for grabs at 39$.
How does it work-what are the steps involved in creating a post automatically and immediately without having to do any work on your end!
Sign up for peppertype.ai and get lifetime deal!
Select a template from the dashboard. After that, it ask you to enter some details like brand name, product description etc. After entering details click on 'content' button. You will see few topic options, choose any of them and hit enter(keyboard button). It will start generating content for you in real time.
Just tweak the generated content as required and publish it! That's all, you can spend your time on increasing readership from engaging posts.
Which topics are available with peppertype.ai?
As of now Peppertype.ai has more than 34 topics to choose from.
Website Headlines/Copy
Brand / Product Descriptions
Google Ad Copy
Tweet Ideas
Social Media Post Captions
Blog Ideas
E-commerce Product Descriptions
Facebook Ad Copies
SEO Meta Descriptions
Before-After-Bridge Copywriting
Blog Conclusion
Blog Outline
Blog Intro
Pain-Agitate-Solution Copywriting
Value Proposition
Engaging Social Posts
Blog Heading Expander
Feature to Benefit
Website Sub-Headline
YouTube Video Description
Product Review Generator
YouTube Video Topic Ideas
Compelling Bullet Points
Content Rewriter
Amazon Product Descriptions
Content Expander
Engaging Questions
Quora Answers
Customer Review Response
First to Third Person Converter
AIDA Copywriting
Personal Bio
Email Subject Lines
Cold Emails
Drawbacks of Peppertype.ai
Peppertype.ai doesn't give you a full control over your content, and the open.ai's GPT-3 has knowledge only until 2019,that's all... It is a machine learning app after all, and you can use it to get away from hours of hard work. Though it generates awesome content for your blog posts or website pages!
That's it for the review!
I hope you found this post useful and informative. If you have any additional questions, feel free to let me know in the comment section below! I will be happy to help out!
What are you waiting for? Claim your lifetime deal now before it's too late-remember, one order gets you all features and future updates for life! Click to purchase peppertype.ai today and get lifetime deal!
CONCLUSION
If you're looking for a way to automate your content creation and generate engaging posts that will drive readership, Peppertype.ai might be the solution for you! With this new AI software, you can create an unlimited amount of high-quality blog posts or website pages without breaking a sweat. You just need to sign up with AppSumo and get lifetime access at 39$. The benefits are too many to list in one paragraph so we encourage anyone who's interested to click on the link below. It'll take less than two minutes of your time but could change everything about how successful your digital marketing strategy is.
Back