sKreen Review - Host Multiple Branded Meetings
sKreen is a web-based video platform that makes it easy for companies to host meetings using their own domain name. It's affordable, scalable and simple to use.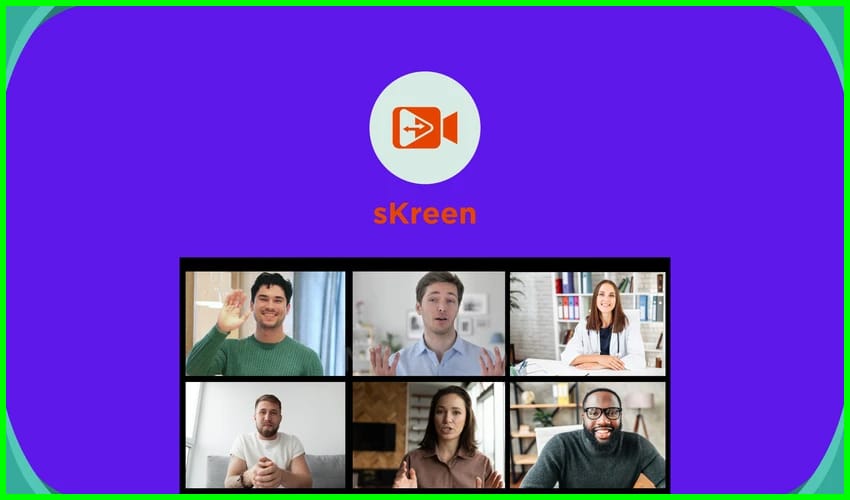 sKreen Review - Host Multiple Branded Meetings
Video conferencing is expensive, complicated and hard to use
sKreen is a web-based video platform that makes it easy for companies to host meetings using their own domain name. It's affordable, scalable and simple to use.
This SaaS (software as a service) company offers white label capabilities so businesses can create branded meeting rooms with custom branding and logos on the room page, invite participants from other platforms like Outlook or Gmail, screen share directly from your desktop during meetings without having to download any software or plugins. The best part? It's super affordable!
sKreen Pricing
sKreen offers two pricing plans:
the Professional plan for $9/month or $90/year and
the Agency plan for $79/month or $790/year.
The Professional plan includes 5 users, 200 participants per meeting, video and audio conferencing, live classes, podcasts, webinars, sell memberships with Stripe, PayPal, and Paddle integrations, custom domain and subdomain with SSL, contacts and segmentations for invitations, screen sharing, whiteboarding and real-time file sharing, audio, video, and screensharing options, live chat/real-time messaging, group chat, quick language switcher, email notifications with templates, Android & iOS PWA apps, whitelabel themes, colors, and styling options, publicly accessible or private meetings and complete user management system.
The Agency plan includes every professional plan features with 50 users, Unlimited Participants per meeting and Unlimited Live Video Recordings to Cloud or Device.
Appsumo Lifetime Deal
sKreen is a very powerful tool and it's currently on Appsumo sale for a limited time so get the lifetime deal now!
So, don't waste your money on monthly subscriptions with other providers, you won't need them with sKreen.
Its priced for an onetime payment of $59.
Features and Benefits
SKreen is a great way to connect with people, no matter how far apart you are.
You can host video, audio, podcast, webinar, and live class meetings with ease.
Plus, you can adjust the settings to reflect your security preferences. SKreen also allows you to brand the platform with your own logo and domain name.
This makes it easy for you to promote your business or organization.
sKreen's video conferencing tools make it easy to host profitable online meetings and courses.
With their convenient progressive web apps for Android and iOS, you can add your customized video app to device home screens and start using it like any other mobile app.
Then, take advantage of their useful tools for collaboration, like the whiteboard feature, to create content that better engages your clients.
You'll be able to sell memberships to your platform and charge monthly, annual, or one-time membership fees.
So go ahead and give access to paid users - start hosting meetings that will actually make a profit!
sKreen is Best For
sKreen is Best For Remote teams who want to host video, audio and webinars in a highly-customizable platform.
sKreen is Best For Content Creators who want to sell membership access directly from their website or Twitch Channel.
sKreen is Best For Marketers who want to send personalized email invites to clients for sales events.
sKreen is Best For Platform Creators who want to build meetups easily with their simple-to-use platform.
And of course, sKreen is Best For Business Owners looking for ways to promote themselves online and increase sales.
sKreen Alternatives
Few of the sKreen Alternatives are listed below:
Zoom: The alternative for video calls.
Google Meet: Free and easy to use tool for online meetings.
User Reviews
Very pleased with this deal

I purchased two codes a few weeks ago and I must say this deal is very promising, with plenty of great features.
Support is top-notch, thereby friendly and extremely helpful.
I still have to test the platform fully but so far, what I have tried was working fast and properly.
I give 5 tacos because they deserve it and they are doing a good job.
When comparing to traditional videoconferencing related platforms this software deal offers mindblowing value and possibilities.
I am looking forward to further utilizing this awesome platform!

- gourmetnoir.com, Appsumo User.
Looks Great

I am impressed enough to fully stack, even if I don't actually know what the long term use of this video tool/s will be.

I can see the obvious potential to generate revenue with sub accounts, but I am sure in the future the will be a "ahh, that's why I need this" moment.

I have bought almost all the video conferencing tools on Appsumo, I think its because the world has changed recently and this way of communicating will be as "normal" as email and messaging.

I am looking forward to keeping an eye on Skreen and following them on their journey.

- Van_Lad, Appsumo User.
This is my first FULL-STACKED app-sumo deal

First, I purchased 1 code, but before I did, I went through all the questions listed so far, and I did a few test-runs with their demo account. I was already looking for a long time, for a ZOOM alternative - which is easy to use. And I think (& hope), sKreen is it!

The roadmap looks extremely promising, and the support is super quick and professional. They really seem to care, compared to a couple other deals I purchased & refunded on this amazing App Sumo platform.

I can't wait to follow their roadmap development, and see amazing stuff being integrated.

- Steven-V, Appsumo User.
The Bottom Line
sKreen is a powerful online meeting platform that helps you sell memberships to your online video, audio and webinar courses.
With its Progressive Web Apps for Android and iOS, it's the perfect way to sell your content directly from your website or Twitch Channel.
If you would like to build a service business where you can set up and monetize your own professional online meeting platform then sKreen is the right choice for you.
Back