TrueRanker Review - A Powerful Keyword Rank Tracker
TrueRanker makes it easy to track your keyword ranking and provides actionable insights so that you can improve your SEO strategy.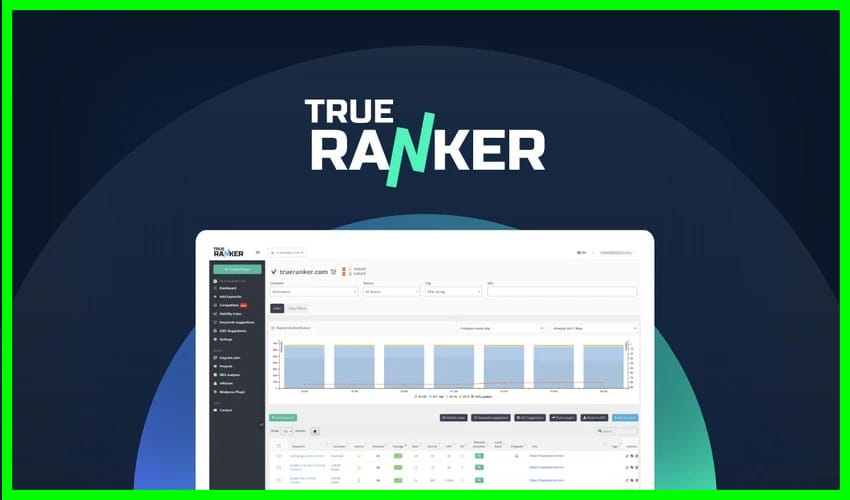 TrueRanker Review - A Powerful Keyword Rank Tracker
Figuring out which keywords to target in your SEO strategy can be difficult, especially if you're targeting a global market.
Not only do you need to worry about the right keywords to target, but you also have to worry about tracking your rank for those keywords and making sure that they are improving over time.
TrueRanker makes it easy to track your keyword ranking and provides actionable insights so that you can improve your SEO strategy.
Pricing
They have three pricing plans to choose from.
The beginner plan is just $9.99 per month, or $7.08 per month when paid annually.
For businesses, they have the advanced plan for $49.99 per month, or $33.33 per month when paid annually.
This gives you access to 500 keywords, 3000 SEO content analysis, 1 competitor for each project, keywords suggestions, Sistrix visibility index and share projects.
All of their plans include unlimited domains, cannibalisations, results in local pack, related searches, integration with GSC, positions history, serps data volume, CPC... and more! You can also try their advanced plan for 14 days free of charge.
Lifetime Deal in Appsumo
Currently, they are running an Appsumo Lifetime deal which you can buy for $59, this is a lifetime deal and it has all the above features.
They also have 2 other pricings for more limits.
Benefits and Features
TrueRanker is an online tool that enables you to monitor the SEO performance of any website, whether it's your own or a competitor's.
You can track domains, subdomains, specific URLs, folders, and even Google Chrome Extensions.
TrueRanker also helps you track your progress by providing detailed analysis for every item in your site, allowing you to make improvements to enhance your rankings and overall SEO approach.
With data on more than 50,000 locations at your fingertips, you'll see how your Google keywords are ranking in the country, province, or city of your choice.
You can also view the evolution of your keyword rankings over time with custom filters to detect growth anomalies and opportunities.
With TrueRanker, you can instantly see your project's keyword rankings, and share dynamic SEO reports with your clients and colleagues.
Plus, you'll get email alerts whenever your keyword rankings change.
TrueRanker is multi-platform, so you can track all your projects wherever you go.
And because it's lightweight and fast, it won't slow down your websites' performance.
TrueRanker is Best For
Trueranker is best for SEO consultants SEO agencies who want to monitor their clients' website's rank in Google.
TrueRanker is best for freelancers who want to monitor their own website's rank in Google.
TrueRanker is best for SEOs who want to see how each page of a client's site is ranking on Google.
TrueRanker Alternatives
WebCEO is a full scale SEO platform which provides loads of features. For example, you can track your backlinks, keywords and more.
Website Review Monitor helps you monitor hundreds of metrics related to your website's health and performance.
Rank Ranger also lets you monitor the ranking of keywords for multiple domains and get alerts whenever there are changes in the ranking.
SEO Rank Monitor helps you track up to 20 keywords for a single website and also provides backlinks analysis, social metrics and more.
SEMrush is a full-fledged SEO platform with everything from keyword tracking, competitor analysis, backlinks checker and lots of other features.
User Reviews
So far, so good for a rank tracker

I bought TrueRanker to track my clients' website rankings. After purchasing, I created a project for each of their domains. Rankings started to populate right away! I can't wait see my first email report (I requested reports every 7 days, but you can get the more frequently).

I love that you can select desktop vs mobile rankings. The "tags" feature is nice, too. I use it to label "brand" and "non brand" keywords.

You can also run SEO audits to see how your site is doing. That's a nice extra feature. I'm mostly here for rank tracking, but every extra feature confirms my belief: this is a 5 taco deal.

So far, so good! Go check it out yourself.

- reubenrock, Appsumo User.
TrueRanker is an easy-to-use SEO tool

TrueRanker is a powerful tool that helps you identify and track keywords relevant to your business and website. It has a sleek interface with a dashboard that allows you to see all of the keywords in one place. It also provides a variety of reports, including SEO reports, to help you improve your SEO visibility and traffic. And with unlimited projects and generous number of keywords in the individual plans.

TrueRanker is an easy-to-use SEO tool and have a great roadmap.

- magicman - Appsumo User.
Very easy to use. Grab the deal while you can

I have purchased other rank tracking deals as well and I like all of them except one. The most user friendly and easy to use rank tracking apps I have found is TrueRanker.

Vey quick to setup and tracking shows accurate results (I am not expert of SEO).

Though I do wish if Javier and his team can add competitor's domain analysis with currently ranking keywords (with DA, PA etc). These features requests has been added on their roadmap when last time I saw (last week). Team seem active but I found during the deals on Appsumo all of founders seem very active and also "nice", but true test starts once the deal's 60 days refund period is over and I have found some founders becomes "not-nice". I hope this won't be the case as I am going to keep this code and considering to buy 1 more code.

Thanks team Javier. Please try to remain same for LTD investors after 6 months or 1 year period as most of buyers have started to lose trusting founders (including me) due to few bad experiences.

Guys, so far I am having 5 star experience regarding its usage.

- Ghost, Appsumo User.
Conclusion
TrueRanker is an awesome tool to monitor the keywords of your website or of your competitor's website.
What are you waiting for? Get TrueRanker lifetime deal at Appsumo.
Back