VBOUT Complete Review - 2021
Whether you are a small agency or large corporation, this tool can help you with leads. Want to use a marketing automation platform that doesn't waste your valuable time? This is where the VBOUT comes to aid.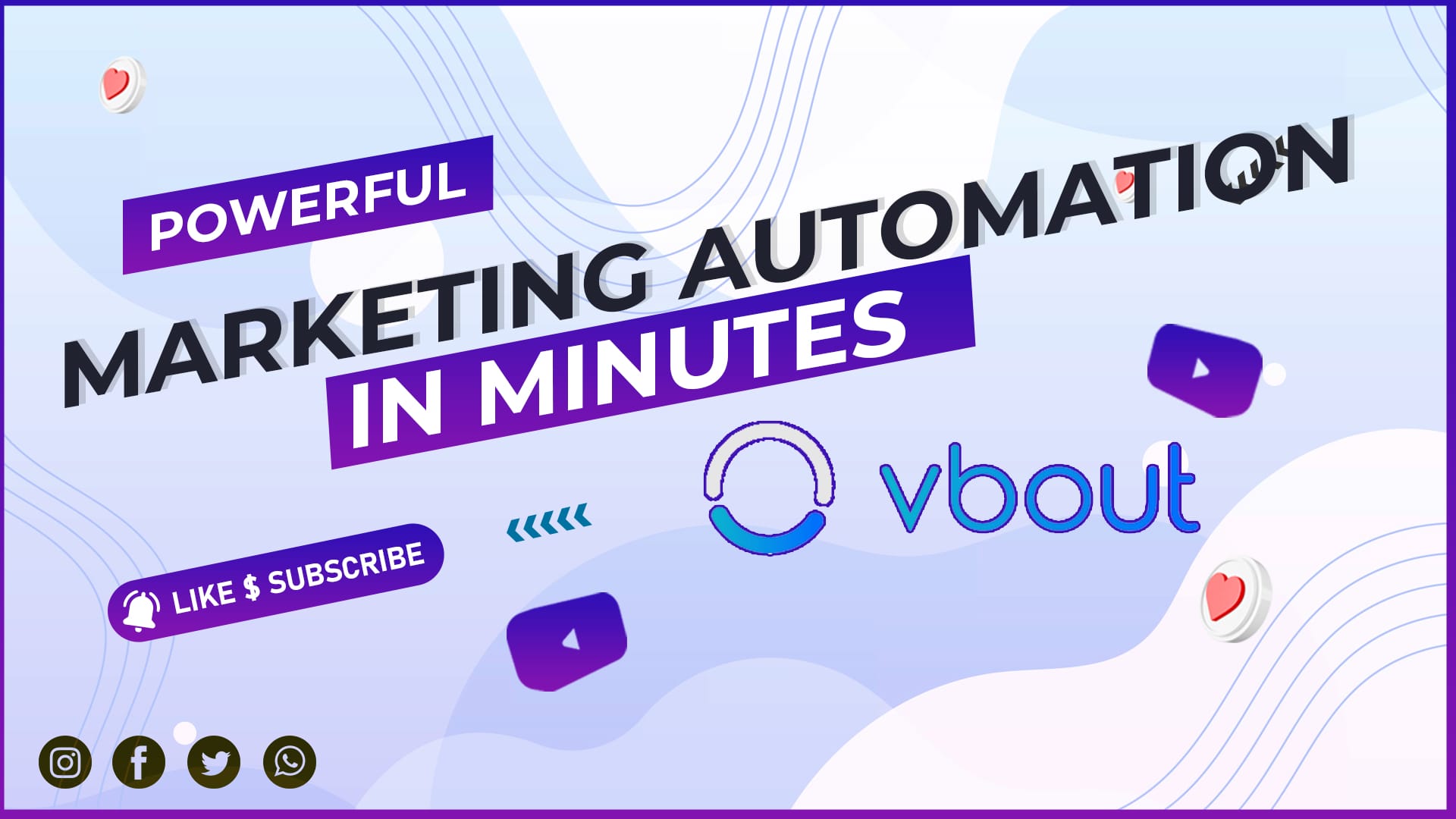 VBOUT Complete Review - 2021
A powerful marketing automation platform will help you reach more people and make more money.
Its more than just a marketing automation engine. It will help you track leads, manage campaigns and optimize performance with powerful analytics that drive business growth.
Integrate your existing marketing channels to create a single view of each customer. And, easily define how they should be engaged and nurtured as your company grows.
Set the right triggers to generate more leads. Once they're in the pipeline, take complete control over communication, tracking and reporting for every stage of your campaign.
Whether you are a small agency or large corporation, this tool can help you with leads.
Want to use a marketing automation platform that doesn't waste your valuable time?
This is where the VBOUT comes to aid.
Features of VBOUT
Visual drag-and-drop automation builder
Build workflows with the visual builder just like you would do it in MS Powerpoint or Visio.
This mobile responsive drag-and-drop editor enables marketers to create automated campaigns and tracking flows that can be used on any device! And, access them from anywhere via your web browser.
Automate tasks for all departments involved in lead generation, nurturing and scoring.
Get more out of the free time you have by automating repetitive tasks that your team is doing manually right now. When you build an automated workflow with drag-and-drop automation builder, it will run in the background for as long as needed without any human interaction.
Fully customizable landing pages and email templates.
Have your branding on all hosted campaign flows, emails and landing pages across the whole platform! Unlike any other marketing automation platforms out there that don't let you customize anything like this, VBOUT allows you to fully control design of every email template and web page on the platform.
Automated workflows to throttle, follow up and qualify leads
Automate lead scoring to measure the potential of each contact based on personal data and it's interaction with your company. Present opportunity trends in a perfect way so everyone involved can make informed decisions about who to target, how often to reach out and when to convert.
Automated customer journeys workflows to empower your marketing automation team to reach more people with personalized campaigns without investing much time on creating every single content. This can help you automate lead nurturing process so that your company will take care of the entire process from start to finish with just a few clicks.
Make sure all campaign stages run smoothly by defining funnel stages and having a clear view on how many leads are going through each stage. Generating more quality leads by setting auto follow-ups based on your company's rules.
Social media Schedule using VBOUT tool
VBOUT is an all-in-one social media management tool that simplifies your workflows. It allows you to publish a set of posts by a single click from the scheduling bar, and it provides features like smart rescheduling of past posts by analyzing their engagement, as well as creating and utilizing branded landing pages. Not only does it allow you to post to social networks like Facebook, Twitter and LinkedIn, but it also supports Google+, Tumblr, Weibo, VK.com, Blogger and RSS feeds.
Vbout enables users to schedule posts for multiple accounts on the same platform within a couple of clicks; test posts before sending them out live; add hashtags while scheduling and also add links; view social media insights for each post individually, such as number of impressions and reach, or average engagement per impression; easily resize text with a mouse; create multiple teams on the platform; duplicate active campaigns for faster publishing to multiple channels from the scheduling bar.
Supports A/B testing
VBOUT is the web-based A/B testing service on the block. With Vbout, you can increase your conversion rates by using more advanced techniques like Web Push and Chunk sending to tailor content specifically for users in different countries or segments of your site visitors that are not converting as well-with just a few clicks!
Native Hubspot, Zoho and Insightly connectors
VBOUT can connect to all your web apps and CRM systems that have Hubspot, Zoho integrations and Insightly API.
The process of connecting to these apps is straight forward; just configure the relevant parameters and your app will be in sync with VBOUT.
Calendar booking component (like Calendly)
Sales and marketing teams now can free from the time-consuming process of scheduling by using VBOUT's innovative appointment scheduling calendar. Its intuitive interface means that you'll have a meeting timeslot to spare in no time.
Drawbacks of VBOUT
Do not have followups
They do not support automated emails or follow-ups of any kind. Only manual one to one reply is currently available.
Application is extremely slow
I can't seem to get anything done because this application is so slow. It takes forever for the website to open, and I'm not sure what's going on with the website but this may be due to the server.
Lack of integrations
Some of the issues with this product are that it is not integrated into other major platforms.
Some features users might find lacking in this app include lack of integrations to other majors software, like for example integrating natively into services like Pabbly and also it doesn't have webhooks.
Plan Comparison.
VBOUT pricing starts from 100$/mo for 5000 emails. you can increase this limit upto 500,000 emails per month for 1250$/mo.
Lifetime Deal
Lifetime deal starts from 79$ for 10000 emails per month. there are four other upper tier plans as well upto 100000 emails per month for 599$ one time payment.
Back