VisualSitemaps Complete Review - Generate Sitemaps Visually in 2021
VisualSitemaps is a new tool that is going to make the lives of website owners so much easier! With VisualSitemaps you can create sitemaps for any site in seconds.
VisualSitemaps Complete Review - Generate Sitemaps Visually in 2021
Want to make sure that your website is up-to date? Generate visual sitemaps with high resolution screenshots and web crawls for any site, no matter where it's hosted!
Sitemaps are the most effective way to make sure your website is up-to-date, but they're also time consuming and tedious.
Wouldn't it be great if you could just generate a sitemap for any site in seconds? Well now you can! VisualSitemaps makes creating visual sitemaps easy with its simple drag & drop interface.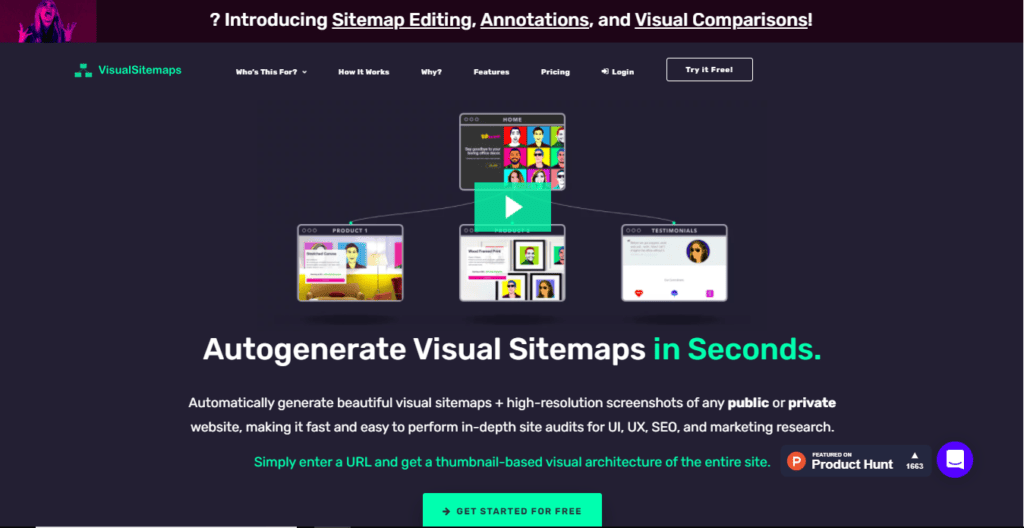 VisualSitemaps is a new tool that is going to make the lives of website owners so much easier! With VisualSitemaps you can create sitemaps for any site in seconds.
Get VisualSitemaps today and start generating beautiful visual sitemaps for your websites instantly!
Features of VisualSitemaps
Understand your website's framework
How can you optimize your website if you don't know what it looks like?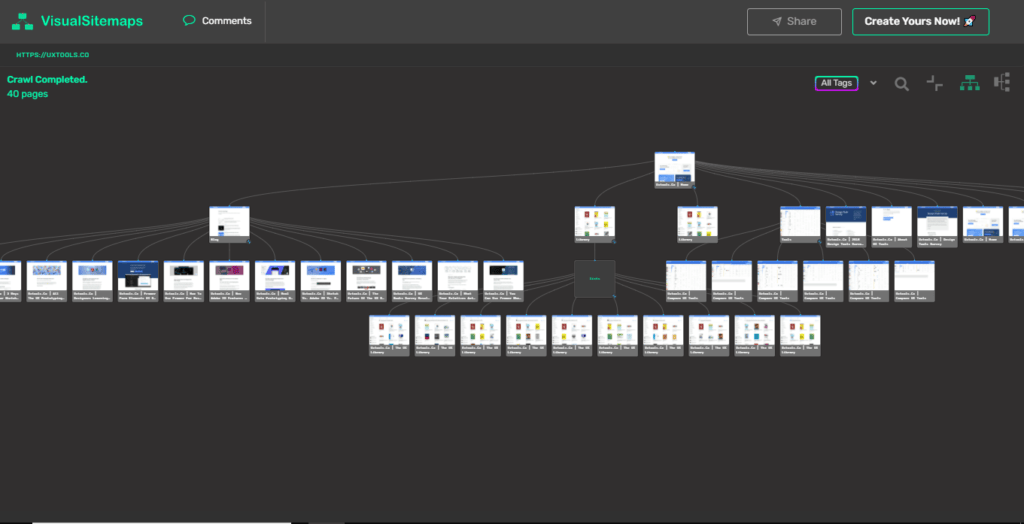 Finding a tool to create high resolution screenshot sitemaps was hard. There are many tools that promise this, but they all have their problems. Some are too expensive, some are too complicated or time consuming to use, and others simply fail at creating an accurate map of the site's framework.
VisualSitemaps is here to solve these problems for you! With this easy-to-use software you will be able take screenshot sitemaps in just minutes by following 3 simple steps.
It saves every single image on their servers so there is no need to worry about losing them when your computer crashes or other unforeseen circumstances occur.
Crawl Any website
Creating a sitemap for SEO purposes is the best way to help Google crawl your content, but it can be hard to find the right UX strategies.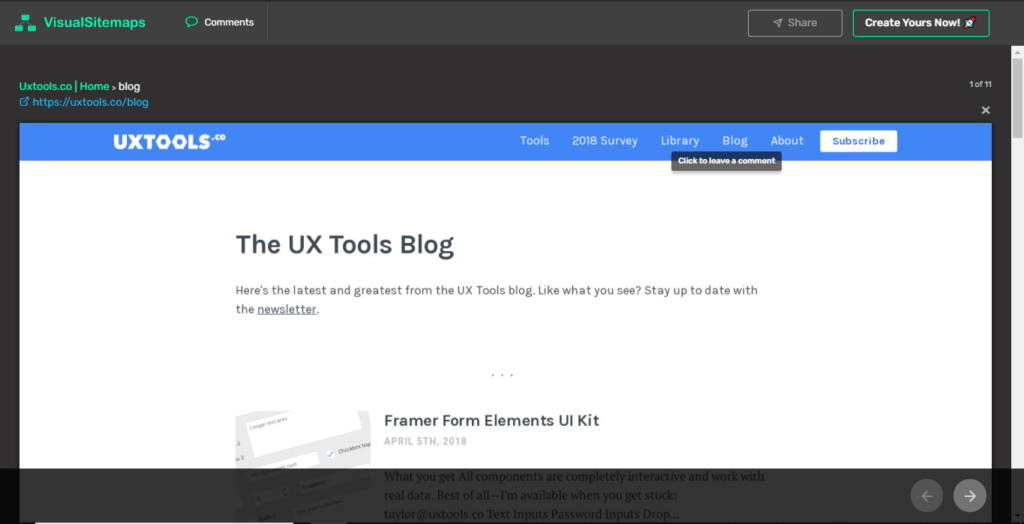 This software tool will allow you to create an amazing sitemap by analyzing existing websites' UI strategy so that when it's time to create your own website, you'll have all of the tools necessary for success.
With visualsitemaps, you can crawl existing sites and discover their best practices in terms of layout and design elements like headers, footer navigation links or even call-to-action buttons. You'll also learn how each page is organized and what types of images are used throughout their site.
Once done with this analysis process, simply copy these insights into your own site map template – voila! Your new website will look just as good as those analyzed pages on other websites we've crawled using our tool!
Drag and drop editor
Sitemap generators are hard to use and require a lot of time.

VisualSitemaps is the first drag-and-drop sitemap creator that makes it easy for anyone to create beautiful, professional looking sitemaps without any technical skills or knowledge. With their automatic tagging feature you can easily find what your looking for in seconds!
Their powerful and easy-to use drag-and drop editor helps you sort even complex web pages with a team! With custom tagging options you can find what your looking for in seconds!
Auditing Competition
We all know that staying on top of the competition is incredibly important, but also painfully hard.
The problem with other SEO tools is that they require you to enter a lot of data and keep track of everything manually.
You need to constantly update your keyword lists or risk losing out on potential traffic from new keywords. Furthermore, if you don't rank high enough for a particular keyword then it's not going to be easy to find it again later.
With VisualSitemaps your job will be so much easier! This software tool is designed to check out what your competition is doing in real time.
If they've updated their website recently (and most sites have daily updates) then you'll see it right away!
Create Scheduled Crawls
Keeping a website up-to-date is hard.
You could hire a team of developers to do this for you, or use one of the many tools out there that promise to keep your site fresh and clean on an ongoing basis.
But these solutions are expensive, complicated and time consuming.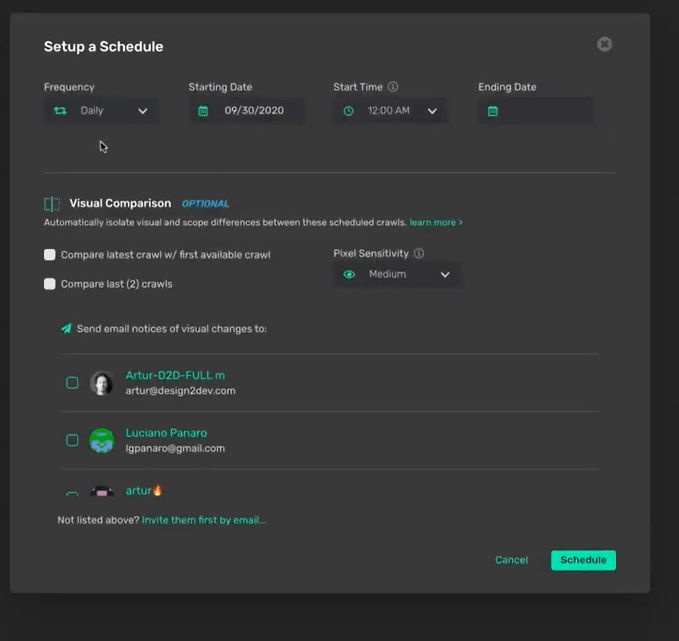 VisualSitemaps is here to save the day! Just select some pages from your sitemap and it'll handle the rest! It'll automatically crawl those pages at regular intervals (you can set it as often as every minute if you want), keeping them up to date without any effort from you.
No more broken links, outdated content or missing images – just a simple way to ensure your site stays fresh all by itself!
Taking Notes and Team collaborations
Earlier, You can't see your competitors' strategies.
VisualSitemaps is a visual sitemap tool that lets you highlight the best features and strategies from your competitors as well take screenshots.
These screenshots can be used to guide future content creation, or show current customers how their needs have been met by other companies in the past!
Finally there's collaboration built-in so team members don't miss out; threaded conversations ensure each conversation gets its own response time too.
VisualSitemaps is a simple to use, yet powerful tool that will help you create better content for your website visitors, boost conversions and improve customer satisfaction scores.
Crawl Private Sites
Not all websites are public. Some of the best UX is hidden behind private-based web dashboards that you can't access without an account or API keys.
There are dozens of tools for creating sitemaps, but they all require you to have an account on the site that you're trying to map. And even if they don't, it can take hours or days for them to create a full sitemap – not exactly the most efficient way of doing things!
VisualSitemaps is a new tool that lets you crawl any user type UX in just minutes. It's fast because it doesn't need an account with the website owner – instead it uses its own crawler to access websites from their XML URLs so there's no waiting around!
Export in Variety of Formats
You can export your visual sitemaps in a variety of file formats like pdf, csv, json or even import to Sketch to suit the needs for each project and device you're working on.
Drawbacks
No White Label Feature
The lack of a white label feature is the only drawback of VisualSitemaps.
Conclusion
Although it doesn't have white label feature, but I think it's a value for money product. With such great features and affordable pricing, this tool proved to be a must have SEO tool that we should all try out.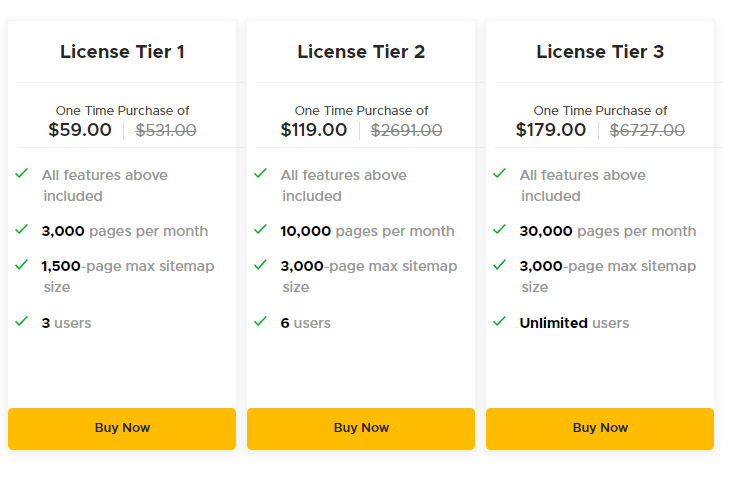 Currently the Tool is available for lifetime deal in Appsumo , starting from just 59$. Grab it while you can.
Back